Description: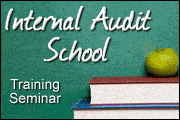 In this intensive four-day seminar you will master fundamental operational auditing techniques and learn how to use a risk-based approach to enhance your audits of the Purchasing, Marketing, Human Resources, Information Technology (IT), Management, Finance, Treasury, and Accounting functions.

You will explore the objectives of major business operation areas and learn how to identify the key risks threatening them. You will find out how to make your audits more efficient and effective and how to use data analytics to gain an in-depth understanding of business processes.

You also will cover such critical areas as the impact of SOX, ERM, and GRC on the organization, uncovering fraud schemes that threaten business operations, and the role of IA in helping management build strong risk management and strategic planning processes.

You will leave this high-impact seminar with the skills necessary to go beyond outputs and to examine the organization's ability to achieve the necessary outcomes.

AGENDA

1. Operational Auditing
The Definition And Meaning Of Internal Auditing Today
Essential Elements For Successful Operational Auditing
The Benefits Of Operational Auditing
Important Trends Affecting Operational Auditing
The Impact Of Sarbanes-Oxley, ERM, And GRC
2. Components Of Operational Audits
The Phases Of An Operational Audit
The Link Between Objectives, Risks, And Controls In Key Functions
The Importance And Uses Of Data
Key Performance Indicators (KPI) And Key Risk Indicators (KRI)
Identifying Fraudulent Practices
IT Considerations And Integrated Audits
Essential Operational Audit Tools
3. Auditing The Purchasing Function
Identifying Key Risks In The Procurement Function
Assessing Governance, Infrastructure, Policies, And Procedures In The Procurement Function
Testing And Monitoring Vendor Relationships, Purchases, And Inventory Management
Evaluating Vendor Relationships And The Contracting Process
4. Auditing The Marketing Function
Examining The Marketing Function's Ability To Achieve Stated Objectives
Evaluating Relationships, Advertising Expenditures, And Sales Activities
Assessing The Effectiveness Of The Public Relations And Marketing Functions
5. Auditing The Human Resources Function
Identifying The Risks In The Human Resources Function
Recruiting, Staffing, And Training And Development Processes
Assessing Employee Compensation, Benefits Administration, And Succession Planning
The Role Of HR In Corporate Governance And Promoting A Healthy Control Environment
Examining Employee Relations, Feedback, And Performance Management
6. Auditing The Finance, Treasury And Accounting Functions
Reviewing The Finance, Payroll, AP, AR, Fixed Assets, And Budgeting Processes
Assessing Treasury, Strategic Planning, Bank Accounts, And Systems Integration
Identifying Fraud Indicators In Financial Reports
Using Shared Services As A Control And Efficiency Mechanism
7. Auditing IT
IT Objectives, Risks, And Controls
Examining Staffing, Strategic Planning And The Infrastructure Within Your Organization
Reviewing System Access, Data Protection And Backups, Disaster Recovery/Business Continuity, And Your SDLC
Evaluating The IT Environment Using COSO And COBIT
8. Auditing The Management Function
Examining Management Tasks And Measuring Their Performance And Effectiveness
Enhancing The Control Environment Through Management Pronouncements, Examples, And Enforcement Of Policies
Helping Management Build Strong Corporate Responsibility, Ethics, Risk Management, And Strategic Planning Processes
Key Considerations For Communicating, Preserving, And Changing The Organization's Culture
How Internal Auditors Can Act As Control Agents While Preserving Their Independence And Objectivity
9. The Future Of Operational Auditing
Automating Controls And The Use Of Continuous Auditing
Helping Management Perform Control Self-Assessments
Promoting Continuous Improvement And High Quality As A Means To Improve Internal Controls
Identifying The Best Recommendations That Lead To Positive And Sustained Changes
Prerequisite: You should have first attended Fraud Auditing Boot Camp or have equivalent experience.
Advance Preparation: None
Learning Level: Intermediate
Delivery Method: Group-Live
Dates &Times
Classes start on the date(s) posted herein, and run from 8:30am to 5pm daily, except for the last day of class, which ends at 3pm.
About The Provider:
Founded in 1978, MIS Training Institute is the international leader in audit and information security training, with offices in the USA, UK, and Asia. MIS' expertise draws on experience gained in training more than 200,000 delegates across five continents.

Helping audit and infosecurity professionals stay at the top of their game has always been at the core of MIS' mission. To that end, MIS has developed and focused its seminars, conferences, and symposia on the wide-ranging needs of internal and IT auditors and information security practitioners who are charged with controlling complex systems and business environments.

MIS' unparalleled course curriculum covers the most up-to-the-minute topics, provides proven audit and security practices, and delivers the information needed to be successful in today's organizations.

All MIS programs are led by industry experts…hands-on pros who have been in the field and who practice what they teach. Attendees of MIS Training Institute events benefit from unbiased practices, proven strategies, and lessons learned in the real-world.

MIS Training Institute is registered with the National Association of State Boards of Accountancy (NASBA) as a sponsor of continuing education on the National Registry of CPE Sponsors. NASBA Sponsor Number: 103321

Cancellation/Refund Policy

A full refund less a $100 administrative fee will be given for cancellations received 15 days or more before the event. Tuition is non-refundable for cancellations made 14 days or less before the event. You may, however, transfer your tuition to another MIS Training Institute event, less a $195 administrative fee. Transfers are valid for 12 months from the time of initial cancellation. Substitutions are welcome at any time.

Those who do not cancel before the event date and who do not attend are responsible for the full non-refundable, non-transferable tuition.